Indianapolis Downtown Full Service Dentist Blog
Posts for tag: gum recession
By Renew Dental Arts, LLC
November 21, 2021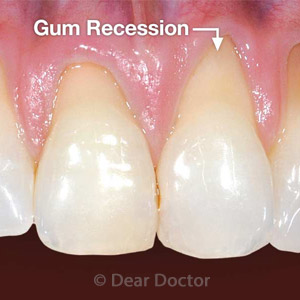 We're all familiar with optical illusions, which our brain visually perceives in a way different from the actual reality. A kind of optical illusion may also happen in your mouth: Your teeth appear to have gotten "longer." They haven't actually grown—instead, the gums have shrunk back (or receded) to reveal more of the tooth.
Unfortunately, this isn't an amusing visual trick! Gum recession isn't healthy, and it could endanger your teeth.
Receding gums occur for a variety of reasons. Some people are simply more genetically disposed to recession because they've inherited thinner gum tissues from their parents. You can also damage your gums through over-aggressive brushing.
But the most common cause for gum recession is periodontal (gum) disease, caused by bacteria inhabiting a thin biofilm on tooth surfaces called dental plaque. The more plaque present on your teeth, the more plentiful the bacteria, which can sharply increase your risk of infection. Unless treated, gum disease can eventually weaken the gums' attachment to teeth that can then cause the gums to recede.
Normally, the gums cover and protect the tooth roots from bacteria and other hazards, similar to the way enamel protects the tooth's visible crown. But teeth lose this protection when the gums recede, exposing them to disease-causing bacteria and other oral hazards.
Fortunately, there is hope for receded gums. The primary way is to first treat the gum disease that caused it: If the recession has been mild, this may help the tissues regain their former coverage. More severe recession, however, may require highly technical grafting surgery with donor tissue to promote new tissue growth at the site.
But the best approach is to avoid recession in the first place by preventing gum disease. This requires removing bacterial plaque daily through brushing and flossing, as well as regular dental visits for more thorough cleanings. Dental visits are also important if you have a higher risk profile for gum recession like thinner gum tissues.
Gum recession isn't just an inconvenience. It can put your oral health at long-term risk. But you may be able to avoid its occurrence by practicing daily oral hygiene and seeing your dentist regularly.
If you would like more information on gum recession, please contact us or schedule an appointment for a consultation. You can also learn more about this topic by reading the Dear Doctor magazine article "Gum Recession."
By Renew Dental Arts, LLC
August 23, 2021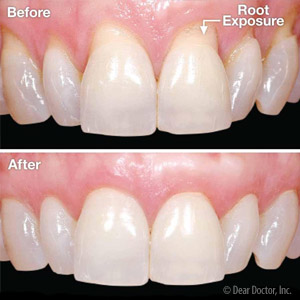 The worst outcome of periodontal (gum) disease is tooth loss—but it isn't the only form of misery you might suffer. One of the more troublesome results associated with gum disease is gum recession.
Normal gum tissue covers teeth from just above the visible crown to the roots, providing protection against bacteria and oral acid similar to the enamel on the crown. But advanced gum disease can weaken these tissues, causing them to pull away or recede from the teeth.
Not only can this diminish your smile appearance, but the exposed areas are more susceptible to further disease and painful sensitivity. And it certainly can accelerate tooth loss.
But there are some things we can do to reduce the harm caused by gum recession. If we're able to diagnose and treat a gum infection early while the gums have only mildly receded, the tissues could stabilize and not get worse.
The chances for natural regrowth are unlikely, especially the more extensive the recession. In such cases, the gums may need some assistance via plastic periodontal surgery. Surgeons reconstruct gum tissues by grafting like tissues to the area of recession. These grafts serve as a scaffold for new tissues to gradually grow upon.
There are two general types of grafting procedures. One is called free gingival grafting. The surgeon completely removes a thin layer of skin from elsewhere in the mouth (such as the palate), then shapes and attaches it to the recession site. Both the donor and recession sites heal at approximately the same rate, usually within 14-21 days. This procedure replaces missing gum tissue, but doesn't cover exposed tooth roots to any great extent.
In cases of root exposure, dentists usually prefer another type of procedure, known as connective tissue grafting.  The donor tissue is usually taken again from the palate, but the design of the surgery is different. A flap of tissue at the recipient site is opened so that after the connective tissue from the palate is placed at the recipient site to cover the exposed roots, the flap of tissue covers the graft to provide blood circulation to the graft as it heals.
Both kinds of procedures, particularly the latter, require detailed precision by a skilled and experienced surgeon. Although they can successfully reverse gum recession, it's much better to avoid a gum infection in the first place with daily oral hygiene and regular dental care.
If you would like more information on treating gum recession, please contact us or schedule an appointment for a consultation. You can also learn more about this topic by reading the Dear Doctor magazine article "Periodontal Plastic Surgery."
By Renew Dental Arts, LLC
April 15, 2021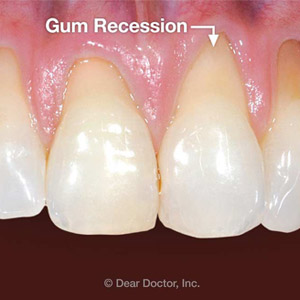 If it seems like your teeth are getting longer as you get older, it's unlikely they're magically growing. More likely, your gums are shrinking or receding from your teeth. Besides the negative effect on your appearance, gum recession exposes you and vulnerable tooth areas to harmful bacteria and painful sensitivity.
Although common among older adults, gum recession isn't necessarily a part of aging: It's primarily caused by periodontal (gum) disease, in which infected gum tissues can weaken and detach from the teeth. This, along with bone loss, leads to recession.
But gum disease isn't the only cause—ironically, brushing your teeth to prevent dental disease can also contribute to recession. By brushing too aggressively or too often (more than twice a day), you could eventually damage the gums and cause them to recede. Tobacco use and oral piercings can also lead to weakened or damaged gums susceptible to recession.
You can lower your risk of gum recession by abstaining from unhealthy habits and proper oral hygiene to prevent gum disease. For the latter, your primary defense is gentle but thorough brushing and flossing every day to remove harmful dental plaque. You should also see your dentist at least twice a year for professional dental cleanings and checkups.
If, however, you do experience gum recession, there are a number of ways to restore your gums or at least minimize the recession. To start with, we must treat any gum disease present by thoroughly removing all plaque and tartar (calcified plaque), which fuels the infection. This reduces inflammation and allows the gums to heal.
With mild recession, the gums may rejuvenate enough tissue to recover the teeth during healing. If not, we may be able to treat exposed areas with a tooth-colored material that protects the surface, relieves discomfort and improves appearance.
If the recession is more advanced, we may still be able to stimulate gum regeneration by attaching a tissue graft with a micro-surgical procedure. These types of periodontal surgeries, however, can require a high degree of technical and artistic skill for best results.
In any event, the sooner we detect gum disease or recession, the quicker we can act to minimize the damage. Doing so will ensure your gums are healthy enough to protect your teeth and preserve your smile.
If you would like more information on gum recession, please contact us or schedule an appointment for a consultation. You can also learn more about this topic by reading the Dear Doctor magazine article "Gum Recession."