Indianapolis' premiere modern downtown dental office!
Comfort and convenience are the hallmarks of Renew Dental Arts, LLC's office operations. To ensure your convenience below is the information you need about our hours, location, appointment scheduling, insurance acceptance, and billing.
Renew Dental Arts
2205 North Delaware St, Ste. 103
Indianapolis, IN 46205
(317) 602-8924
Office Hours
Monday:
7:00 AM - 3:00 PM
Tuesday:
7:00 AM - 5:00 PM
Wednesday:
7:00 AM - 5:00 PM
Thursday:
7:00 AM - 5:00 PM
First Thursday of every
month 7:00 am - 3:00 PM
Friday:
7:00 AM - 3:00 PM
Saturday:
Closed
Sunday:
Closed
Click here for door to door driving directions
Appointments
You can set your appointment online by clicking the "schedule an appointment online" tab. If, for any reason, you cannot keep a scheduled appointment, or will be delayed, please call us as soon as possible. Appointments canceled less than 48 hours in advance result in a fee.
Insurance and Billing
We accept most traditional insurance plans. Renew Dental Arts, LLC does not participate in Health Management Organizations, HIP, HMO/DMO plans, or Medicaid. We are happy to file your insurance claim for your reimbursement as long as you are free to choose your own dentist.
Don't have dental insurance? Call us to ask about our RDA plan; an in-house discount plan!
Financing Options
Many of our patients prefer to have their necessary services completed as soon as possible, yet pay for them on a monthly schedule. We are proud to partner with lending USA to offer financing at affordable rates.
Lending USA provides a complimentary check of your rate with a soft credit check to verify your eligibility. This does not affect your credit score.
Now you don't have to worry about saving up for the procedures you want and need. We offer No Interest* financing or low minimum payment options so you can get what you need when you need it.
With three simple steps, including an instant approval process, it's easy to apply for CareCredit. After you're approved, you're free to use CareCredit for the services you choose including LASIK, veterinary, dentistry, cosmetic, hearing aids, and more. For more information or to apply online, visit Carecredit.com.
How Do Pay My Bill?
When your claim has been processed you may have a balance for the amount they did not cover. We use Abella to alert you of your balance. Abella is a new service we offer to allow you to make your payments from the convenience of your smartphone or computer. You can also fulfill your balance by using our "Make a Payment" button at the top of our webpage or by giving us a call to take payment over the phone.
We accept credit cards, checks, CareCredit, and cash. We also offer payment plans for eligible services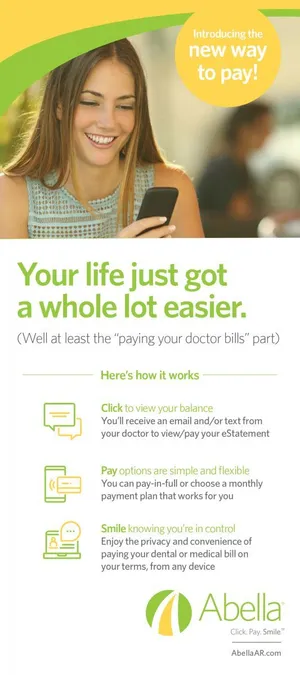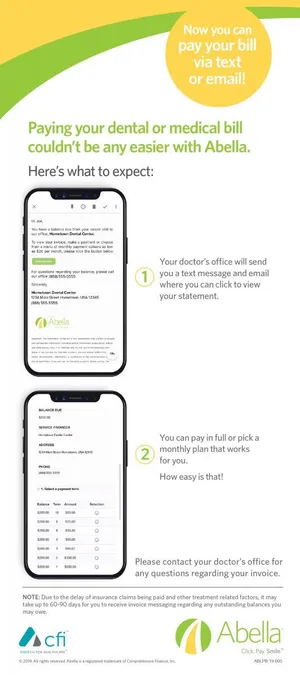 We are pleased to offer the following:
Digital X-rays
3D Cone Beam CT imaging
CEREC same-day crowns
Solea laser--no anesthetic needed for fillings!
Dental Implants
Laser frenectomies (tongue tie or lip tie reversal)
SDF - a way to stop dental decay without drilling or anesthesia.
Take home sleep study, to check for sleep apnea (breathing) related issues or bruxism (grinding teeth)
and much more!